21 Feb
Having taken a look at our school garden we agreed that it needed some love and attention.  We decided this was a project to work on in the school as part of both our Discover Primary Science and Maths project, and our sustainability project.  In 6th class we all drew our own pictures and wrote short descriptive pieces of writing about how our garden currently is.  We then put our landscaping skills to the test in planning how we would like our school garden to be.  We also did some video interviews on yard at break time with children from other classes to get some of their ideas.  We discussed possibilities and in the end we had to be realistic with what we were hoping to achieve.  Here is a sample of our garden transformation so far…
We decided to keep our other raised beds to sow some pumpkins.  First class are going to sow some pumpkins in the coming weeks.  We hope we will have a pumpkin for each class next Halloween.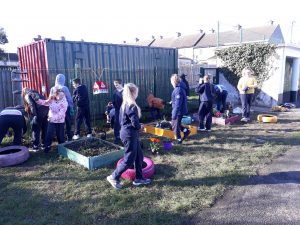 Raised bed perimeters painted by Brooke, Kia, Kelsey, Brigid, Amber and Caithlin.  6th class working very hard to loosen soil by the fence and sow lots of daffodil bulbs which will hopefully flower for us next year.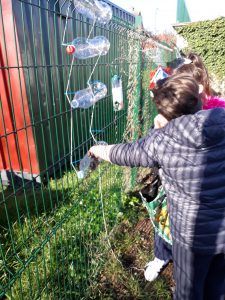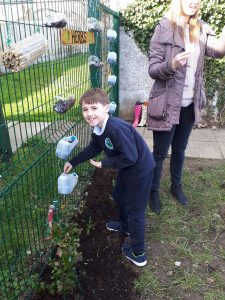 Second class taking advantage of the recent good weather and sowing our herbs into the herb ladders.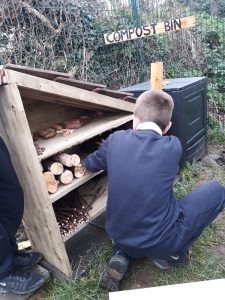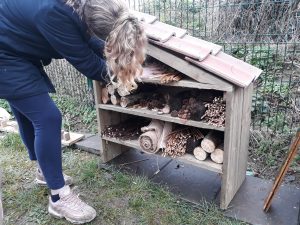 Dean and Kelsey are organizing the different areas of the palace to entice the minibeasts in.
What a difference a fortnight of school makes.  So much work has been done by the children so far, with more projects in the pipeline to further enhance our garden. Amongst these are a wishing well and a fairy door!   We are also taking an allotment in Fassaroe in which 5th class will be sowing a variety of vegetables.