3 Jul
What a busy term we have had in Senior Infants! Between our school tour to Glenroe Farm and baking rice krispie buns with First Class, learning about animals during Aistear, taking part in Bike Day, Sports Day and a minibeast hunt, having a guest speaker visit our class, planting flowers and taking part in another design and make project with Fifth Class we have been working so hard and enjoying ourselves along the way!
Take a look at some of our photos and read below to see how we got on!
We really enjoyed learning about animals and as part of our Aistear role play station we learned what it would be like to work as a vet and to work in a zoo as a zoo keeper. We love our role play area as we get to act and use our imaginations! We dress up, use lots of different props and try to stay in character, all while using our new vocabulary that we have learned.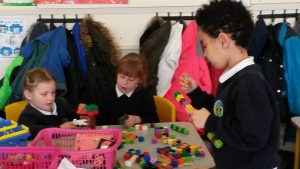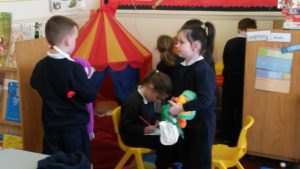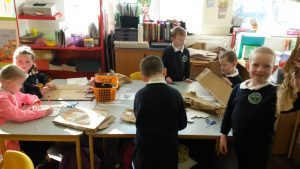 Mr. McAdam was kind enough to come back to visit us and brought a special guest – our chick! We were delighted to see how big the chick had grown and were happy to hear he is now living on a lovely farm with some new chick friends! 🙂 We were really happy Mr. McAdam came back to visit us.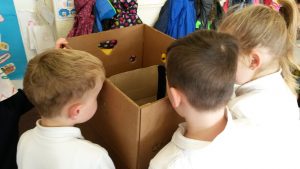 Our last Aistear role play theme of this year was the 'Garden Centre'. The boys and girls were very good at remaining in character as managers, cashiers and customers. They used compost to plant seeds and used the till to practise using money which we learned all about during Maths.
We also learned lots about minibeasts like bees, wasps, ants, butterflies and caterpillars. We went on a minibeast hunt to see if there are any minibeasts in our school yard and were surprised with what we found! We recorded our results and shared them with the whole class when we returned to the classroom. We saw slugs, flies, ants and butterflies!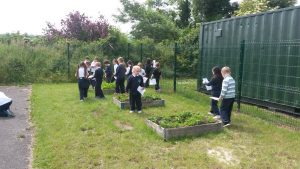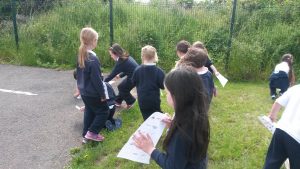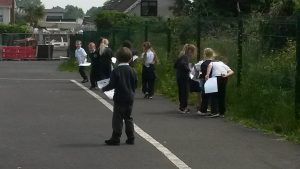 As part of our History lessons we were delighted to welcome a very special guest speaker to our classroom to tell us about what school was like in St. Peter's 50 years ago. Mr. Cunningham taught in St. Peter's when it moved to our current location from the church grounds in 1961. He kindly answered all of our questions and the boys and girls learned a lot about what school was like when he taught here. He explained that the rooms were not as colourful as they are now and that the boys in the school had to use ink wells to do their handwriting. He said that he loved teaching and we were delighted to show him a photo in the corridor that he is in! We are very lucky that Mr. Cunningham came to visit us and hope that he will come back when the new classrooms are complete. Huge thanks to him and Frances for coming to see us!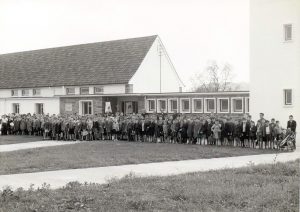 The boys and girls worked so hard during the year so we decided that we would bake some rice krispie buns as a nice treat! They were delicious! Thanks to Ms. Ward, Ms. Travers, Ms. Flanagan and First Class for this great idea! We also decorated our classroom for the Euros and cheered Ireland on with our flags, watching their brilliant goals on RTÉ News2Day. Unfortunately they are no longer in the tournament but we wish all the other teams the best of luck!
We also worked on another design and make project with Fifth Class and Ms. Sexton. This time we discussed the Post Office and how we post letters and packages. We worked in the Post Office during Aistear earlier this year and were able to remember that we need to put an address on the envelope that we are sending, as well as a stamp. Our challenge was to post one pringle crisp in the post and to make sure that it wouldn't break along the way! Our other challenge was not to eat the pringle before posting it 🙂  The Fifth Class were so helpful and worked with us to think of the best designs and materials that we could use. We sketched our designs and Fifth Class helped us to label them. They also asked us excellent questions to make sure we had considered all the different aspects of our designs, like if it was strong enough/ would it fit in the post. We decided that it was important to make sure the pringle was cushioned and protected in the package and that the package wouldn't crush the pringle. Then we got to work! We used materials like bubble wrap, cardboard boxes, cotton wool, plastic bottles and yoghurt cartons. We made sure to use plenty of sellotape to secure our packages. Our designs were so unique and Ms. Byrne has helped us post them to their destination. We hope to hear they survived the journey in the post intact! 🙂 Big thanks to the boys and girls in Fifth Class for all their help and patience, they are so kind and we loved working with them!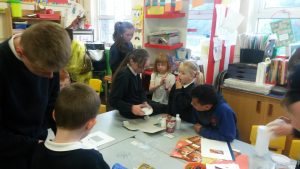 We had a fantastic year and learned so much and worked so hard! We are definitely ready and excited to start First Class in August! We hope everyone has a well-deserved rest this summer and enjoys their break! 🙂