5 May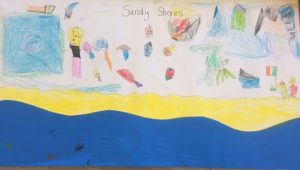 This week, in Junior Infants, we met a whale named Sally, who lives in the sea beside a lovely village called Sandy Shores. We asked Sally lots of questions about Sandy Shores and made predictions about what she might like to play, eat and do for fun!
She was very upset the second time she came to visit us, however, because Sandy Shores had developed a terrible litter problem. Her home was getting polluted with lots of rubbish and this made her feel very sad.
Luckily, Junior Infants are experts at dealing with rubbish and looking after the environment. The Lord Mayor of Sandy Shores heard that Junior Infants were experts and sent them a letter, asking them to please help. They spoke with each other and recorded what they felt they needed to do to help the Lord Mayor, Sally and all in Sandy Shores.
Junior Infants went into role as 'Superhelpers' named 'The Litter Busters' and went to Sandy Shores to tidy up the rubbish.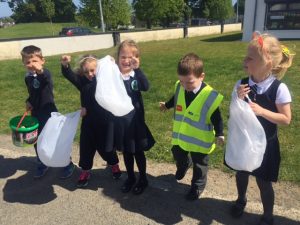 Some children were leaders. They wore a high vis jacket and their job was to make sure all the Litter Busters were doing their bit to look after the environment at Sandy Shores.
Other children had grabbers. They used these to grab litter from the sea in which Sally the whale lives.
Fia, Reece, Oisin and Amber had a wonderful idea! They decided that they needed to build some bins in Sandy Shores so that this problem wouldn't arise again.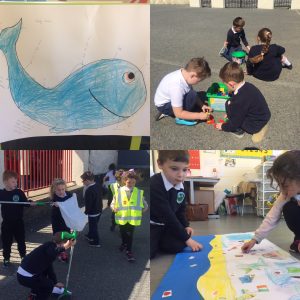 Kaiden and Ella were very busy sorting the rubbish into the correct bins. Reece, Aaron and Tyler worked hard on sorting the fruit they found into different sets. They then counted how many of each fruit they found.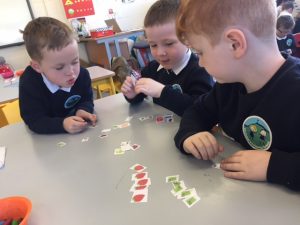 The Litter Busters thought that it would be important to make posters to make sure that the villagers from Sandy Shores would be able to learn that it is not ok to to litter their streets, beach and waters. The Litter Busters, in pairs, created wonderful posters showing the villagers of Sandy Shores how to take care of their rubbish. They then presented them to the class.
Junior Infants made the Lord Mayor and Sally very happy with they work they did to restore Sandy Shores and teach the villagers how to look after this picturesque village, from here on out!
Well done Junior Infants!