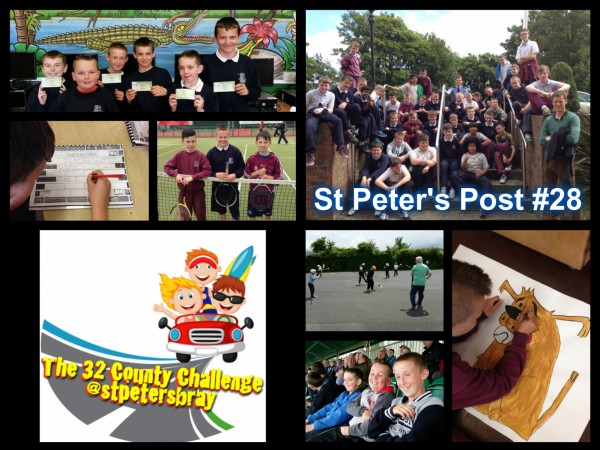 Welcome to the St Peter's Post, our weekly online newsletter! This week, all classes were busy finishing off their self-assessment folders, their scrapbooks and preparing for the last couple of weeks of the term. With that in mind, the blog was a bit quiet this week, but consider it the calm before the storm – we've an exciting two weeks ahead!
The main headlines from this week are:
In other news this week:
We featured in the Bray People and the Wicklow Times this week!
Today (Monday) is Tommy, our Gaelic coach's birthday! As we knew we wouldn't see him today, we celebrated it on Friday with cake and lots of singing. We're really lucky to have Tommy in St Peter's – he is popular with staff and students for his good humour, great rapport with the students and hilarious jokes! Happy birthday Tommy – thanks for everything you do in St Peter's!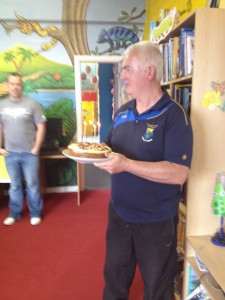 Tommy came in to do hurling training last Monday with all classes – check out our Vine to see how we got on!
 We'd a very exciting Twitter chat with Alan Nolan, author of the excellent 'Fintan's Fifteen' and he offered to come in and visit us!
We featured in this month's INTO magazine!
We are so excited to be in the @INTOnews magazine InTouch! All of the teachers will see us. That is cool! pic.twitter.com/418aHBEFV2 — St. Peter's Primary (@StPetersBray) June 12, 2014
Mr Kinsella won a set of workbooks from PrimEd Ireland during the week! This is brilliant news for the school as we prepare for next year's booklists!
We were delighted to welcome Anne McMorrough to St Peter's last week. She visited 2nd class, who Skyped with a school in Tipperary and heard all about their Skype with Chris Hadfield, the astronaut. Anne is from Marino and has interacted with a number of our classes on Twitter in the past. She was really impressed with the work in 2nd class!
Six boys went to the Bray Wanderers match with Mr Foley and Paddy on Friday night. The result may not have gone their way, but they really enjoyed their evening!
We're looking forward to going to @BrayWanderers vs @bfcdublin tonight with Me. Foley and Paddy! #loipic.twitter.com/rFExPqQ0MQ

— St. Peter's Primary (@StPetersBray) June 13, 2014
As always, you can find all of our previous St Peter's Posts 
here
 and now, on the website, we've included space for the St Peter's Posts so that visitors to the website can keep up with all of our weekly news. You can access the latest St Peter's Post at the bottom of the front page of the website or you can click on 
this 
link to see them all!