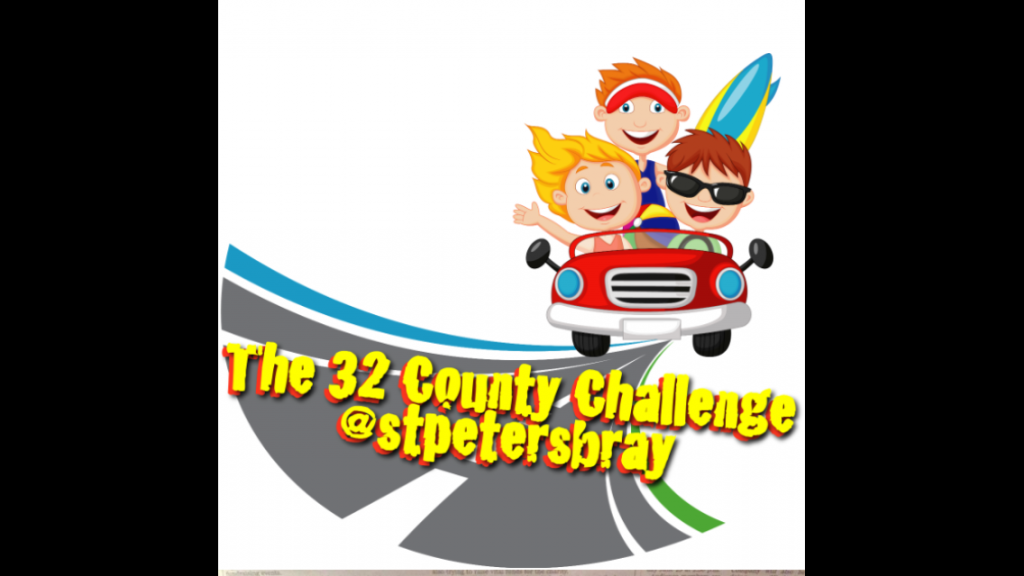 (As there's so much interest in and excitement about the 32 County Challenge, we've made this post a sticky – don't forget to scroll down to catch up on all the rest of our news!)
Last Thursday Mr. Foley, Paddy and Mr. Kinsella came around to all the classes and made a big announcement. A couple of the boys had figured it out from the article in this week's Bray People Newspaper (Wednesday 4th June).
So what was the announcement? We here at St. Peter's are currently planning our biggest ever fundraiser to be held at the end of June. On Sunday June 22nd, the three teachers plan on driving through all 32 counties in Ireland in less than 24 hours, getting a picture at each "Welcome to…" county road sign. As if that feat alone wasn't hard enough, the boys and girls have set some challenges for the trip which include doing hand stands, reciting poetry, and eating a Big Mac as quick as we can, to name but a few. (A special mention has to go to Paddy Mullen who has been training extremely hard to master the 3rd challenge)!!!
So what's the reason for the 32 County Challenge? The reason behind the challenge is to celebrate the announcement that from August this year, St. Peter's will become fully co-educational taking in boys and girls from Junior Infants to Sixth Class. With bigger numbers in the school our target is to raise money towards a new portable school stage for our Christmas Play, the highlight of the school year.
In regards fundraising, we've been working tirelessly to sell sponsorship of counties to businesses and retailers in Bray and thankfully we have had a great response. For their sponsorship they will have their business name, logo and details in a photo at a county sign on our trip. This photo will be uploaded to our twitter account (@stpetersbray), and our award winning school blog (www.stpetersbrayblog.com ). We will also be keeping everyone up-to-date with live feeds of our progress on the day.
Probably the most excitement in the school though is coming from the boys and girls own fundraising. The class who raises the most money, along with the boy or girl who raises the most individually in each class, get to experience the Peter's Projection Room. A specially designed, state of the art, cinema constructed in the school Library for the day, complete with Movie, Popcorn, Drinks and Goodies.
As if the possibility of a cinema experience was exciting enough, for every €10 raised by each student they will receive a raffle ticket. Top prize in the raffle is a brand new bike worth €200. 2nd Prize is a brand new mobile phone and 3rd, 4th and 5th prizes of free places in the School Summer Activity Camp.