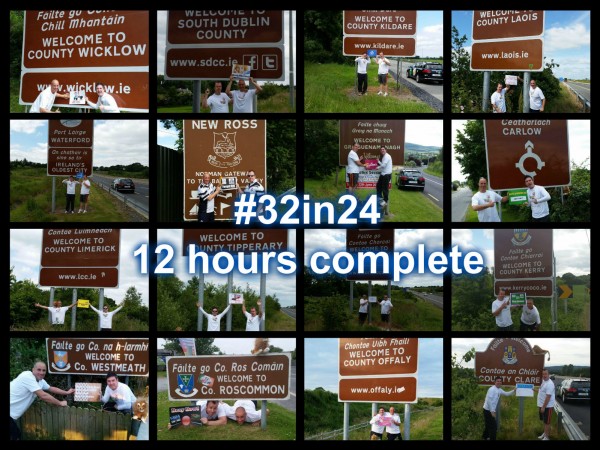 Those on Twitter have been able to follow all of today's developments as they've happened, but we've put together a little post to update you on the progress of Mr Foley, Mr Kinsella and Paddy at the 12 hour mark, half way through the challenge, and as you can see, they've reached 16 counties, half of the target. It's going to be close tomorrow morning but we really hope they can manage it!
If you'd like to follow the journey on Twitter, you can either check out the school's twitter account @StPetersBray or the hashtag for the challenge #32in24. You can read all about the Challenge here.
The day started with a trip to East Coast FM for an interview with Anne at 9am!
Great start to the morning with Anne in @eastcoastfm. Now time for a bit of breakfast before we set out! #32in24 pic.twitter.com/A2CPAHgSxw

— St. Peter's Primary (@StPetersBray) June 22, 2014
Then, the three went for some breakfast and prepared to set off. They're wearing t-shirts, made specially for the trip, with the counties and their sponsors on the back…  
All set….! #32in24pic.twitter.com/yWjHbVTMgn — St. Peter's Primary (@StPetersBray) June 22, 2014
TheDailyEdge, part of TheJournal.ie, also published an article about the challenge and you can read that here.
There's been fantastic support all day from the Twitter community and you can read all the updates from the three lads and the messages of good luck by clicking through to our Twitter profile or the hashtag. Keep up the great work Mr Foley, Mr Kinsella and Paddy – we're really proud of you! Don't forget that we'd really like to have all sponsorship money in tomorrow and that parents are welcome to join us for the homecoming breakfast at around 11am. Thanks for all the support so far!