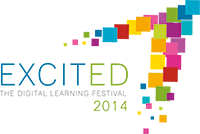 Last Saturday, St. Peter's had the huge honour of showcasing their technology and ICT use in Dublin Castle at the Excited Digital Learning Conference. We were invited to participate having completed the Digital Schools of Distinction adjudication. It has been an incredible year for St. Peter's, and we have worked to improve and enhance our use of ICT at every level in the school. This has led to great success at a national level, and we have been successful in the national Eircom Junior Spiders awards, the national Mathletes finals and we have also won a Creative Schools award for use of photograph/technology to present stop-motion projects.
The Excited Conference was a two-day event that celebrated everything that schools like ours are trying to achieve with technology and digital learning. Archie (6th), Leon (5th), Jack B (4th), Finn (3rd) and Kelsey (2nd) represented our students at the event. We had a stand and we showed off our blog, website, podcasts, videos, stop-motion animations, our use of Khan Academy and our use of social media generally.
Check out some of the amazing things we saw! We loved seeing the work of other schools and asking them about their work. We were really impressed with the Lego displays, and we want to try out Lego Mindstorms as soon as possible!
Lots of people came to chat to us about our work. Our students represented us so well, and everyone was very impressed with the lovely stand that Ms. Sexton put together before we came in from Bray on the DART. We had some major highlights, including meeting Marty Cooper (the inventor of the mobile phone!) and Dr. René Lydiksen who works for Lego – a real life Lego man! René invited a number of schools up on stage for his keynote address and we were delighted to be one of them. Our fantastic five said that it was like being part of the Late Late Toy Show, which has to be the ultimate compliment. We then got to see Stephen Howell from Microsoft showcase Project Spark, a game creation tool. We thought it looked really cool and then we got to try it out at our stand afterwards with Stephen! We also met Sean O'Sullivan, from Dragon's Den, who was really impressed with our work in the Mathletes Challenge.
Thanks to all who organised the day, especially Minister Ciaran Cannon and Bernard Kirk (who sent 3rd class all of the amazing Lego). Thanks to Neal from Digital Schools and to Ger McHugh from Dublin West Education Centre, who were so helpful in preparing for the day. It was a brilliant day and we really enjoyed it!
Don't miss a full run-down of the day and catch all of our photos on the animoto video below!
This is the official highlights video!