Ms. Byrne and third class had the most exciting start to their week this morning! A big package was delivered to the school addressed to 'The Children in Ms. Byrne's Third Class'.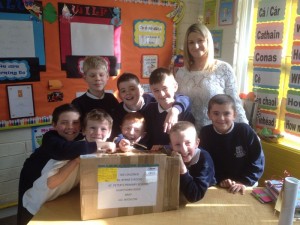 After much guessing and anticipation about what might be in the package, the boys ripped opened the box. They found the most generous, kind and thoughtful letter inside explaining what they had received. And if you know third class, you could probably guess at what the best possible thing in the world would be for them to receive…
YES you've guessed it – LEGO!!!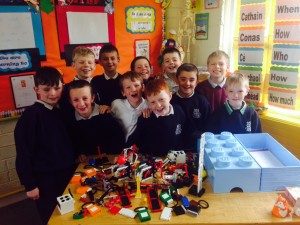 The package had been sent by none other than the marvellous LEGO Man himself, Bernard Kirk!
Bernard came to visit our classroom and could see how much we love LEGO from our Stop Motion Animations and the LEGO man in our room. Bernard is a teacher who is currently the Director of Galway Education Centre. He works to provide opportunities for young people in Engineering, IT, Robotics, Science, Entrepreneurship, Mathematics and the arts. Bernard is the co-founder of Robotics Ireland, Medtronic Scientist of the Future, Aviators of the Future, Irish Mini Sumo Robotics, Entrepreneurs of The Future and Medtronic KNEX, to name but a few. He also organised the FIRST LEGO League and Junior FIRST LEGO League in Ireland.
We couldn't be more grateful or thankful to Bernard for this wonderful gift that will bring us hours of fun and excitement. This can only mean one thing…more award winning LEGO Stop Motions and wonderful LEGO creations from third class in the future. J