Our write and draw a story creativity task has had a great response from students so far and we loved seeing all the different ideas you came up with last week in response to the question 'Why was the rabbit there?'
Bex has sent on a message to everyone and has added some of your own ideas to the story! A huge well done to all and keep up the super work as your idea and illustration may be included in the next piece.
Good Morning Everyone!
WOW! What amazing ideas and beautiful pictures!! It was so wonderful to receive all your creative works. THANK YOU.
It is very important that you know, it was practically impossible to choose one way for the story to go as ALL of them would have made incredible stories.
Also I really struggled to choose the artwork to be included as I would have loved to include them all.
I have tried to weave in a few of the wonderful ideas to our story so far and we now have our Alien Rabbit who has landed in St Peters playground…
I can't wait to hear all your imaginative ideas for the next questions.
In the meantime, those still at home I hope you feel positive knowing that this is the last week, and those back at school, I hope you are enjoying being back with your friends and teachers again.
All the best and stay safe
Bex
The story is getting very interesting. Have a look here at what the update includes: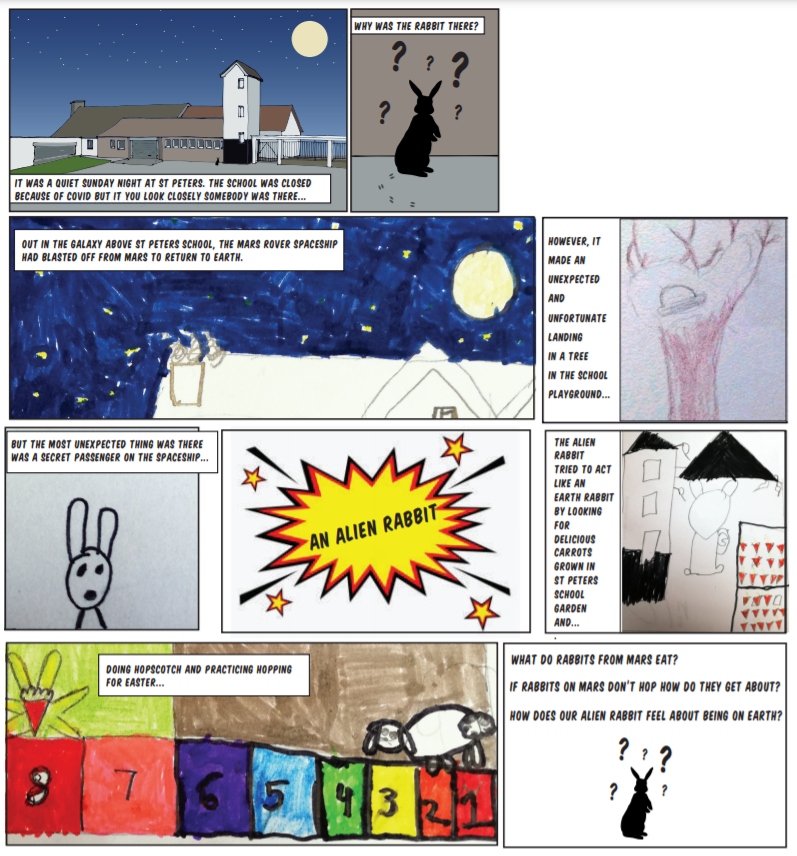 There's 3 questions for everyone to respond to with writing and illustrations this week and we're excited to see what happens next!
The questions are:
What do rabbits from Mars eat?
If rabbits on Mars don't hop, how do they get about?
How does our alien rabbit feel about being on Earth
Remember to be as creative as possible and use your imaginations, enjoy!