We are delighted to be taking part in the First Lego League competition again this year.
There are 3 main elements to the competition – The Project, Core Values and The Robot Game & design
The Project:
There are three main parts to our project; Identify a problem, Design a solution, Share with others. This year's challenge was to look at how animals and humans interact, find a problem with one of these interactions and develop an innovative solution.
After weeks of research & brainstorming we finally decided to focus on bees for the Animal Allies Challenge! We started our investigation about bees and we discovered that bees are pollinators.  This means that bees carry pollen from one flower to another.
Pollinators like bees are REALLY important to make sure we keep growing healthy and delicious foods like Strawberries, Apples, Pears, Pumpkins, Beans and Blackberries.
Unfortunately, our hard working bee is in danger of disappearing forever.
Why? A big factor is due to their interactions with humans. The bees are becoming extinct for number of reasons. Some of the main ones involve humans:
The destruction of bee's habitats e.g. gardens, grasslands, sand dunes, bogs, woodlands
People use pesticides and chemical farming systems when growing crops. These pesticides and chemicals are killing our bees.
Climate change, if the climate starts to change this can cause big problems for bees. If the warm weather comes too soon, bees will wake up early from hibernation and because flowers have not yet come out the bees will go hungry with no food to eat.
The solution
We knew we couldn't solve the problem for the whole world overnight.
So, we decided to focus on something we could do and try to help the bees in Ireland.
Our solution has two main elements raising awareness in schools and the creation of a website.
The first element was in relation to schools. We came up with the idea of contacting all the schools in Ireland by sending them a letter with information about how important our bees are.
We explained how to create a bee friend a bee zone in their schools by planting some flowers and plants for the bees to eat.
We designed a package for seeds to send to each school to encourage them to create a bee friendly zone.
The second part was the website. We created a website using Weebly called Be Friend A Bee.
The address is www.befriendabee.weebly.com.   The website is designed to give people information about how important bees are. It gives facts about bees and tips on how we can help save them.
Share our solution
The third and final part of the project was to share our ideas with others.
This is how we did it: Our befriend-a-bee website, we sent letters to schools in the area with packets of seeds to sow, we made posters about bees and stuck them up around the school and we contacted Bray town council and told them about our project.
2. Our core values: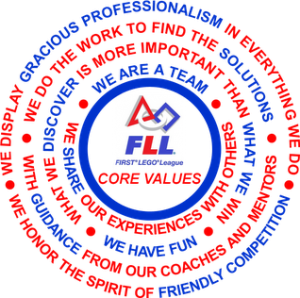 3. The Robot Game & Design
The third and final part of the competition is the Robot design and robot game. This involves programming the EV3 Lego mindstorm to complete missions around the Lego table. This year's challenges are  how animals help us. We found the missions challenging but really enjoyable.
We are travelling to Galway next Saturday 21st January to take part in the competition in the Radisson Blu Hotel. We are super excited to show off all our hard work!