In Junior Infants, we have been getting used to the idea of doing an hour of play each morning for Aistear. Our first theme was 'Space' as last week was space week.
In this collage, Garylee and Fia did wonderful teamwork in which Garylee made a spaceship and Fia made an alien. Oisin and Reece were also enjoying their playtime in the malleable area and both boys created wonderful aliens. In the role play area, some of the boys and girls look very scary indeed!
Below, in the construction area, Leon and Kaiden were working together to construct spaceships and rockets. They did a super job. Fia made very tasty 'space-getti' as inspired by the 'space-getti' in our 'Welcome to Alien School' storybook – yummy! While each group of children took part in play, Ella-Jayne and Garylee got a chance to do some wonderful writing at our writing station. The boys and girls love to get the chance to go to the writing station and use bright paper, chalk boards, metallic colouring pencils and coloured pens! They especially love that they are allowed to write on the table at this station!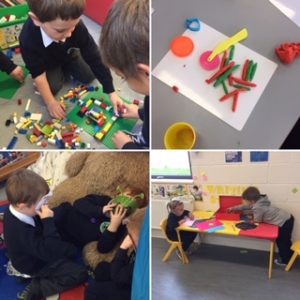 During Ready, Set Go Maths, the children in Junior Infants were doing great work at sorting their shapes according to shape, colour and size this week. Agata, just before tidying up, managed to squeeze in some time to make a rocket using the shapes on the table – can you spot her red rocket?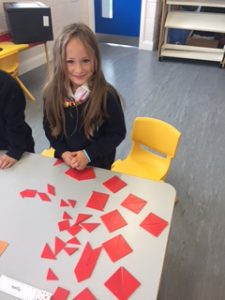 Please feel free to come and visit our classroom – you could see our rockets that we created using 5 rectangles, 1 triangle, some chalk and glitter glue!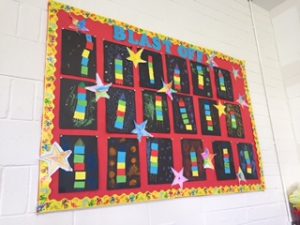 Talk to you again soon!
Lots of love,
Junior Infants ♥