We have had a very busy term in Senior Infants and hope everyone is enjoying their well deserved break!
Here is a little update on what's been happening in our classroom!
Investigating and experimenting is something we like to try whenever we get the opportunity. After reading 'The Gruffalo's Child' by Julia Donaldson we decided it might be a good idea to try to design and make a coat for the Gruffalo's Child to wear. We knew that the Gruffalo's Child liked to explore the woods near his home but it seemed silly that he wasn't wearing a coat out in the snow!
Since we are really improving at working together in groups we decided to complete this task in our Aistear groups but before we started it was important to discuss why exactly we were choosing to design and make a coat and what type of coat would be best for the Gruffalo Child. There were lots of excellent suggestions from the class. Michael said that the coat should be 'warm' and Elif suggested that it should be 'waterproof' because the Gruffalo's Child might be playing in the snow. The Orange group said that the coat should look nice.
After talking about what criteria we thought was most important we looked at some examples of coats. We talked about different materials, colours, shapes and details such as buttons and zips. Cian McD made an excellent point when he said that 'some zips get stuck easily' so maybe we could make our coats using buttons instead.
We then decided to design our coats using pencils and crayons. Each person in the group designed an individual coat and then presented their ideas to the rest of the group. The group then decided on one aspect of each design that should be used in the making of the group's coat. For example the Yellow Group thought that Chloe's pattern was really nice and the Red Group liked the way Lauren had designed a coat with different coloured buttons and decided to use this design for the project.
Each group then chose a variety of materials to work with to make their coat. A big thanks to Ms. Keating and Ms. Fry for lending us lots of different types of materials! Some boys and girls made hoods, others made sleeves and some were in charge of decorating the coat. Team work and cooperation was really important to make sure that the coat was completed properly and all teams did really well. We also practised our cutting and sticking skills which are very important.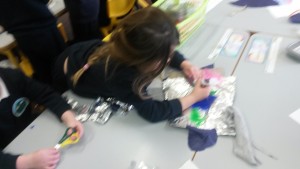 The boys and girls then presented their designs to the rest of the class and talked about how they felt working as a team and how they decided on their designs.
Check out the finished products below!
As well as designing and making we have been working on our sequencing skills and are trying our best to use words such as 'next', 'then' and 'finally'. We find it is best to practise sequencing some of the stories we have been reading in class, such as 'The Toymaker' by Martin Waddell and 'The Gruffalo's Child' by Julia Donaldson. It also gives us another chance to practise our group work.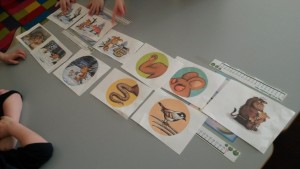 During our Geography lessons we were learning about weather and were also discussing the climates of different countries such as Australia, Colombia, Norway and South Africa. We learned that 'weather' is the word we use to describe what it is like outside on any given day and that the 'climate' of a country is what the weather is usually like in that place. We learned about 'north', 'south', 'east' and 'west' and where is the 'equator' lies. We looked at a video on the Trocaire website http://www.trocaire.org/getinvolved/education and discussed how important it is to be aware of climate change and the impact that our actions can have on the rest of the world. Kristina kindly brought in a children's Atlas for us to look at.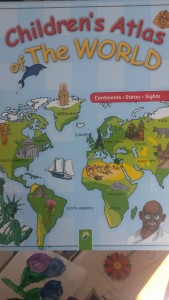 One of the most exciting things to happen in our classroom all year was the arrival of 3 little visitors, thanks to Mr. McAdam! We were all so delighted when he told us that he needed our help to look after some chicks that were still in their eggs. We promised to be so good and to use our indoor voices so we didn't frighten them! The eggs stayed in an 'incubator' at the back of the classroom and we can't wait to see if they've hatched when we return after our Easter holidays!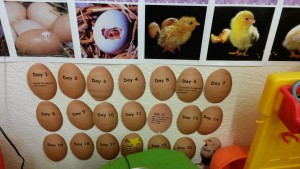 Mr. McAdam taught us so much and his lessons were always interesting and exciting! We learned a lot about farming during Aistear, we read the story of 'The Children of Lir', we learned about the story of number '9' during Maths and had the chance to play lots of different musical instruments during Music lessons! Lauren said that she loved learning Gaeilge, Toby enjoyed Aistear and Lee said he loved everything he learned with Mr. McAdam.  We hope Mr. McAdam comes back to visit us soon and thank him for all his hard work!