On Monday 30th of November SPECS, a brand new service to Bray, held their official launch. To celebrate, SPECS held an art competition in the town for schools and clubs. Homework club in St. Peter's took part in the competition and we were delighted to hear that our very own Leon Reynolds from 3rd class was one of the winners. Leon was invited to the launch to receive his prize which was awarded to him by Minister Simon Harris. He also got to meet the Ombudsman for Children, Dr Niall Muldoon and his picture was put on display on the day. Leon drew a picture of something he loves to do with his family, camp in the backyard. Well done to Leon for his fantastic work.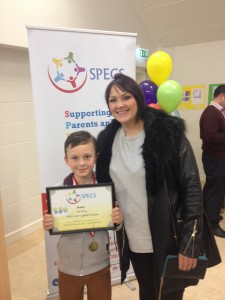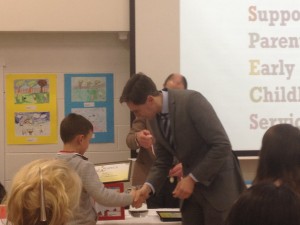 Specs (Supporting Parents and Early Childcare Services) is a prevention and early intervention initiative that works with parents, early years services, schools and other agencies to improve outcomes for children from pregnancy through to school age.
If you are interested, or would like to find out more, call the SPECS team on 01-211 6481 or just drop into the office for a chat – you will be most welcome.