Welcome to 2nd class! Our teacher is Ms Sexton. There are 13 people in our class.
Five things we love in our class:
We love our teacher and our classmates
We love Nugget, who lives in our classroom
We love doing Art, PE (especially football) and Science!
We love Roots of Empathy!
We love Lego! (check out our classroom door!)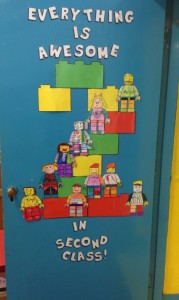 Three things we're looking forward to doing this year are:
Welcoming Baby M into our classroom every month for Roots of Empathy!
We're looking forward to baking with our teacher.
We're looking forward to finally getting to take part in the famous Christmas play!
We love to read and our favourite books are:
Rhyming books, especially the funny ones by Julia Donaldson – this week, we're reading Tyrannosaurus Drip!
Roald Dahl books – we're really looking forward to reading Esio Trot
Books with beautiful illustrations – we tweeted Summer Buzz about 'The man who walked between the towers' last week!
Our favourite TV shows are:
Mickey Mouse programmes (Lana)
Disney channel (Ava)
Football matches (Arpit)
Peppa Pig (Tristan – who might have been trying to make us giggle!)
Friends (Maddy)
Victorious (Jerry)
Spongebob (Nathan)
Our favourite movies are:
Anything with Robin Williams in it (Nathan)
ParaNorman (Ava)
House of Magic (Lana)
Hop (Arpit)
High School Musical (Jodie)
Planet of the Apes (Tristan)
Bruce Almighty (Maddy)
Our favourite musicians are:
One Direction (Ava, Lana, Nathan)
Rihanna (Jodie)
Katy Perry (Nathan)
John and Edward (Jerry)
Lady Gaga (Lana)
Bruno Mars (Tristan)
Nicki Minaj (Des)
Favourite time of year in St Peter's:
We've heard a lot about Christmas and Christmas plays so we think that might be our favourite!
Favourite thing about St Peter's:
Hot cocoa
After-school clubs
Football in the yard
The teachers and the principal
There's loads to do
Homework club!
We like what we learn about in class
Best memory in St Peter's so far:
My first day when I made loads of new friends (Ava)
When we made volcano art (Lana)
When we made our Lego people for our door (Nathan)
Reading in the library with our friends (Tristan)
When we played with the musical instruments (Adam)
When Baby M came in for Roots of Empathy (Maddy)
Everyday! (Arpit)