One year ago, today, St Peter's published its first blog post. This is our 289th post in that year and as we announced yesterday, Aaron Gray posted our 1000th comment this week. With this in mind, we postponed this week's 'Wednesday for Parents' to coincide with the birthday, so that we could focus on a very special topic – the blog.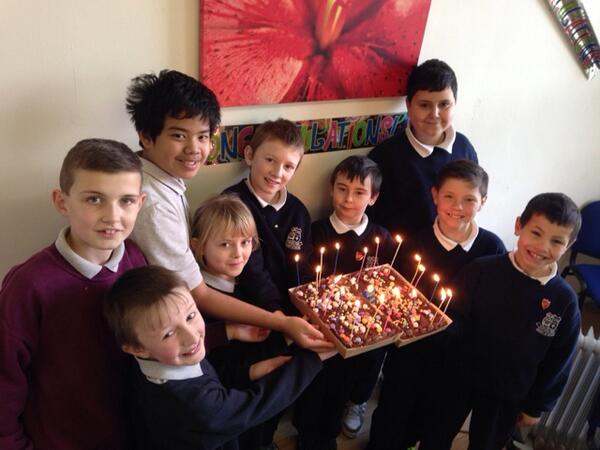 So, why do we blog? And why do we believe it's worth it? We asked the people who know best, our students!
I like blogging because it's really fun and you can see what's going on in the school – Johnny

I like when we work in groups to blog – Carl and Jordan

We get to share our work with the school and people on the Internet. I like the animations the best. – Dylan

My favourite thing on the blog is making it fun for other children – Dylan

It's a good thing to be proud of your work – Abbi

I like saying nice stuff to other classes in my comments. I like the way you can change the language on the blog so when you go on holidays to other countries, you can show them your work! – Aaron

I like saying nice stuff to other classes – Ryan

The blog is very interesting and inspiring. It gives you Maths games to try out at home – Luke

I like the fact that it lets other people know about us and we can show people all that we've accomplished. – Leon

My favourite thing on the blog is Tommy's Lego Video! – Dylan
As you can see from the selection we asked today, the students are largely very positive about blogging! What the students like about blogging sits very closely with the benefits of blogging that we've noticed. These include:
Blogging gives a parents an insight into the day-to-day life of the school – many of our parents have commented that it's a lovely way to keep track of what your child is learning in school, particularly through photos, videos and podcasts.
Blogging encourages positive interactions between our older and younger students. – the senior classes in the school are excellent for praising the work of the youngest students in the comments sections.
Blogging encourages our students to take pride in their great work and to enjoy the praise and compliments from staff, students and parents that posting their work brings.
Blogging provides a focus on writing for purpose – the students enjoy writing blog posts and work really hard on their writing and editing.
Blogging promotes sharing resources and ideas with other schools – we've really enjoyed our interactions with other schools and classes and, while we've learned a lot from them, we also believe that they've picked up ideas from us!
Blogging develops school spirit – it really shines through how much our students love their school!
Blogging showcases hidden talents – Tommy's video here is a perfect example of that.
Blogging is a lovely way to keep in touch with family and friends in other countries – we know we have grandparents, aunts, uncles, cousins, brothers and sisters reading the blog to find out how school is going. Remember you can read the blog in any language, using the 'Translate' option at the side of the page.
Blogging gives us a platform to suggest ways to help your child's learning – we provide links and suggestions, particularly through 'Wednesday for Parents', to strengthen the home-school links.
Blogging is a good way to develop safe, appropriate behaviour online. We have a strong emphasis on web safety and we model positive posting and commenting.
Today is a day to celebrate how far we've come in a year. We can't wait to see what next year brings!
As always, you can read all previous 'Wednesday for Parents' posts here.