Fifth class have taken their first steps into the exciting world of Scratch! Although one or two members of the class had already tried it out, most are working with it for the first time – and enjoying every minute!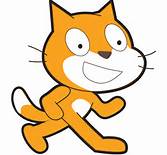 Scratch is a free programme that introduces students to software development – it can be accessed here. Some of the students have already downloaded the programme to use at home, but  it can also be accessed online without having to download it, if you set up a Scratch account. Fifth class are going to set up a class Scratch account to make sharing and accessing each other's projects easier! One of our past pupils, who just started first year and came back to visit today, wanted to join in and recreate his famous dragon programme from last year!
The best way to learn to use Scratch is free play with the programme, but we have been learning specific skills – such as how to make the sprites/characters move. Today, we made an aquarium using backdrops and two moving sprites!
Keep an eye out here for updates – we hope to upload some of our projects to this post later in the week…