Congratulations to Luke, Dillon and Kyle from 6th class, who recently finished their training as part of the wonderful programme in Festina Lente.
Ms Sexton and Ms Sugrue were treated to a guided tour of the facilities in Festina Lente, and they were really impressed with the boys' knowledge of caring for horses. The boys showed off an extremely neat mucked-out stable and explained the feed room. They also demonstrated how to say hello to the Shetlands.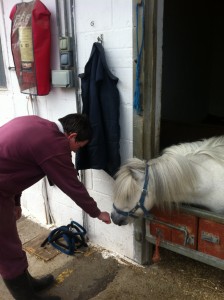 After they were presented with their certificates by the fantastic staff in Festina Lente, the boys gave a guided tour of the beautiful gardens. There are terrapins in the ponds there, but Ms Sexton and Ms Sugrue took a bit of convincing that they weren't statues – until they started moving! The boys have also been taking care of their own allotment, which made Ms Sexton wonder why the turnips didn't survive in the classroom!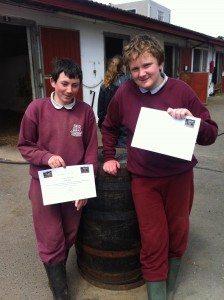 Congratulations to all the boys for completing the programme and thanks to Festina Lente for organising it. More information on Festina Lente can be found at http://www.festinalente.ie/. Thanks also to Paddy, Mr Curran and Ms Sugrue who provided transport over the year!