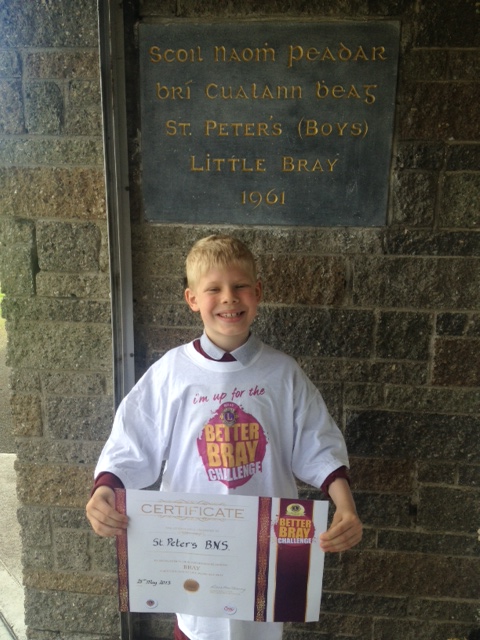 This year, the Bray Lions Club is celebrating its 25th Anniversary with the theme of 'Past, Present and Future'. To celebrate the present, they planned the 'Better Bray Challenge'. The Lions Club do great work in our area and we were delighted to play our part in their community project this year, as we all work to make Bray a better place to live, work and play.
Our goal in St. Peter's was to keep the area outside of our school grounds cleaner. We planned to do this by making the whole school aware of our goals and also by having classes pick up litter each week outside of the school grounds.
We were aware of the challenge early on and 2nd class made posters and identified the most areas of litter. We also included information about the project in our school newsletter.
We went out with our teachers and used bags, gloves and pickers (kindly donated by the Council) to help us clean. We collected rubbish from the school grounds, surrounding footpaths and areas outside the houses in the local community.
We have seen a great difference in our area and we are more conscious about keeping our area tidy. We are continuing to implement our anti-litter actions and hope to add to our efforts.
Thanks to the Bray Lions Club for helping us to honour our achievement at the celebration day on May 25th. We are so proud of our certificate and we're looking forward to getting it framed to hang proudly in the hall!