6th Class recently re-created some very famous American landmarks in Art class.
Have a look at what the boys have to say about their work – and click here to listen to them speaking about it!
Dillon is holding the Statue of Liberty. It is in New York Harbour on Liberty Island and first opened in 1886. It was a gift from the French people to the United States. It is a model of the Roman goddess of Freedom who was called Libertas. She holds a torch and a tablet that has the American Declaration of Independence date on it (July 1776). The statue welcomed people as they came into America.
We made this model using paper and papier mache.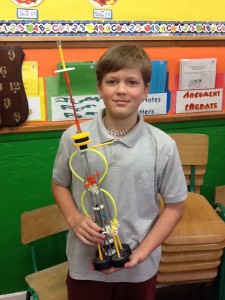 Adam is holding a model of the Seattle Space Needle. It is a well-known landmark at the Seattle Centre. It was built in 1962 for the World Fair. It is 605 feet high and weighs 9,550 tons.  The tower also has 25 rods on its roof to prevent lightning damage. We made this using one of our favourite materials – k'nex!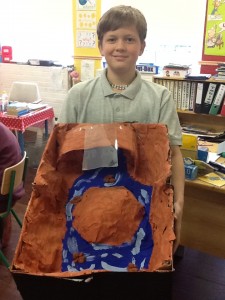 Adam is now holding a papier mache model of the Grand Canyon. It is a canyon carved by the Colorado River in Arizona. It is one of the wonders of the world!
A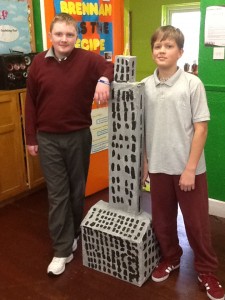 dam and Dillon are now standing with the model of the Empire State building. It is a skyscraper in Manhattan, New York City. It gets it's name from the nickname for New York,the Empire State. Is is one of the seven modern wonders of the modern world and is famous for being in lots of films.
We hope you enjoyed our whistle stop tour around the US landmarks. God bless the United States of America!