We had a great week celebrating Science Week in Ms. Kane's class, one of our favourite celebrations of the year! We love taking part in STEM activities on a regular basis and were excited to try lots of new ideas this week. We listened to Professor Luke O' Neill talking about coronavirus, watched David Attenborough's new documentary 'A Life on Our Planet' and used Lego WeDo! to design our visions for the future.
We learned lots about coronavirus by listening to Professor Luke O' Neill answering questions on RTÉ Junior. Professor O' Neill is a scientist and explained very clearly how coronavirus is spread and reminded us to keep washing our hands. We also enjoyed learning about where the term 'coronavirus' comes from and whether or not we can spread it to our pets (we were glad to hear that we can't).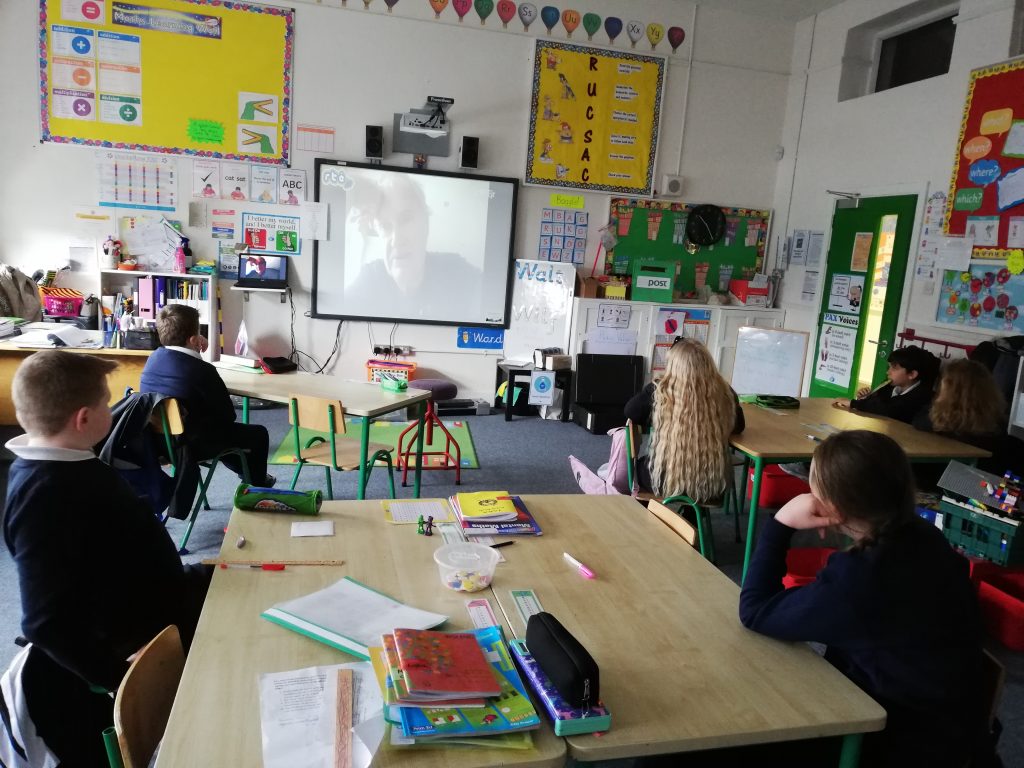 We also considered the science behind our baking this week. We made meringues and needed only egg whites and sugar to make them. It was a challenge separating the egg whites but thanks to Ms. Kelly we managed! We wondered how the egg whites looked like clouds or shaving foam when we whisked them? We learned that this is because the whisk creates a force through the egg whites which unfolds protein molecules. We know protein is also found in foods like chicken, fish and milk. The whisking also makes air bubbles that become trapped which make foam. Ms. Kelly even showed us the test to see if the eggs whites were whisked enough and turned the bowl upside down – they didn't budge! There's so much science involved in baking, we love learning about it!
Separating the egg whites!

Concentrating!
Creating our meringues.

Making sure they're perfect!
We watched David Attenborough's new documentary 'A Life on Our Planet' and loved it! It's a really good example of the explanation genre, which we're learning lots about, and it fits in perfectly with the theme of Science Week this year, 'Choosing Our Future'. David Attenborough explained how the Earth is affected by how we, as humans live and gave us tips about how to improve the natural world. We had some great suggestions from pupils in our class that we're sure David Attenborough would approve of, including using renewable energy sources like wind and solar power and trying to make small changes in our own lives, like continuing to recycle more and using less water at home, when brushing our teeth for example.
Programming.

Design discussions.

Following the steps.

Building takes patience and concentration.
Inspired by the documentary, we decided to create some of our own visions for the future, using Lego WeDo. This gave us a chance to use our imaginations and to consider what we think will be important in our futures. Lego WeDo is so much fun to use and everyone worked so well in teams. Using the Lego WeDo app on our tablets we selected designs and got to work building and programming them using simple codes. One of our pods made a wind turbine that they hope will become a more common source of energy in years to come. Another pod created a helicopter as they were concerned that if the planet continues to heat up, more natural disasters will occur and we'll need helicopters to send to save people and deliver resources. The final pod made a machine that could be used by farmers to speed up harvesting their crops. Really innovative ideas, a huge well done to all!
Adding the final pieces.

Making sure it works!