We have been learning about space in Ms. Kane's class in celebration of Space Week. We learned about the International Space Station, completed some space art and watched some very interesting videos from the well known Canadian astronaut, Chris Hadfield. We were thrilled when we tweeted about what we learned about him and he saw it!
Art work

Representations of space

Using our imaginations

Getting creative!

Fun times!
We decided to carry out a design and make activity based on 'robotic arms'. We discussed the use of 'robot arms' in space and learned that astronauts have to use them when collecting samples and while carrying out investigations outside the International Space Station.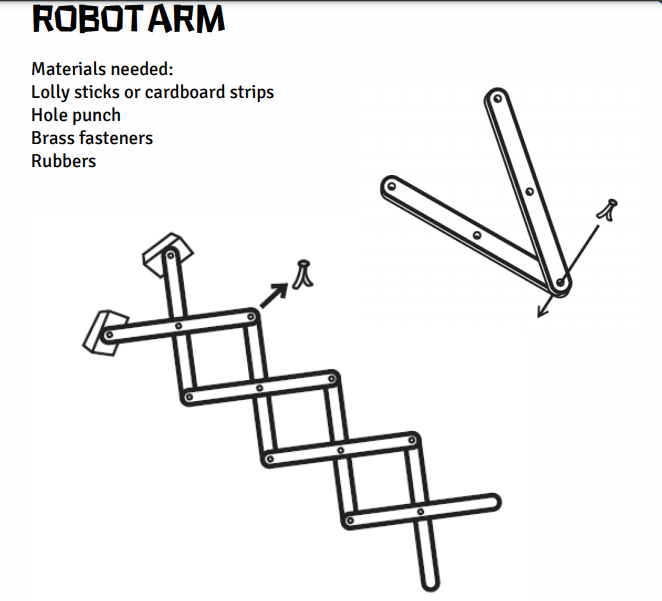 Before we began, we discussed what materials we'd be using and the big engineering questions associated with this activity: how would we make the arm move? and how could we make sure the arm could lift items? Before using the materials, we sketched a plan of our design and discussed some approaches in our pods. Then we got to work!
We used cardboard and brass fasteners to create our robot arms. Making sure that our arms could move freely was really important and we soon found out we needed to check if the fasteners were too tight or too loose and adjusted them as needed. We needed to measure each piece of cardboard and decide where to punch holes so that our robot arms would work properly. This required lots of teamwork and discussion.
Testing our arms was lots of fun! Some pods were successful on their first attempt of trying to pick up an object but other pods decided to make some 'modifcations' to their designs. For instance, a cardboard spoon and fork were added to the end of one arm to help making lifting objects easier and others used a felt eraser. Lighter objects were easier to lift and we discussed what materials might be useful for robotic arms that need to be used in space. Lots of great engineering and maths skills being put to use!