Mr. Foley's class went to visit Sealife as part of our Discover Primary Science project. Sealife is a SFI Discover Centre in Ireland. It was the first time some of the pupils had made the short trip to Sealife and everybody had great fun there while learning about what lives in the sea both in Ireland and abroad.
While we there we learned all about the different types of fish in Irish sea water, as well as tropical fish that can be only found in Ireland in the centre in Bray. These tropical fish need warm water to survive and our seas are too cold for them. Luckily, some of the tanks in Sealife are nice and warm so the fish can live there safely.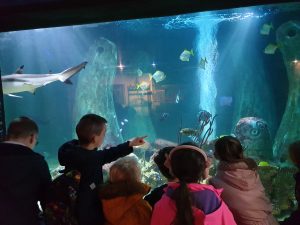 We also got to see a baby shark and see some of the fish being fed. Our guide was excellent at answering our questions and even let us touch a starfish. It was a strange sensation rubbing the starfish. We had great fun discovering fun facts and being so close to so many colourful fish.
The class had fun listening to the different guides as went around the centre. It was interesting to learn about what the different fish eat, and one fact that stood out was that fish can outgrow the size of their fish tank they are kept in. It was also fun to see jellyfish, sting rays, and sea horses swimming in the aquarium. Some of the boys and girls had seen them on tv before and it was nice to be so close to these colourful and interesting creatures on the day.
Afterwards, we paid a quick visit to our outdoor classroom on the beach. It was too windy to stay long but it was fun to see the waves crashing against the rocks.
After our trip we talked about what it would be like if we had fish as a pet in our home or classroom. Grace got two new fish and explained how she feeds them, cleans the water, and keeps them safe in their tank. She also told us how she added shells and stones to her tank to help make them feel more at home!