Junior Infants are coming towards the end of their first year in St. Peter's, and what a year it has been!
Last week, we had a chat about our favourite memories of our first year in school, with some recounting their first day in school to others chatting with excitement about Sports Day, the day we each made rockets for Space Week, our time spent in our Aistear areas and so many more special moments besides. Garylee exclaimed "I want to stay in this school forever" … he will have to be reminded of that at the Sixth Class Graduation in years to come!
You can see the work completed by each of the children outside the Junior Infant classroom on their favourite moments of the school year. Feel free to pop in and have a chat with your child about their work.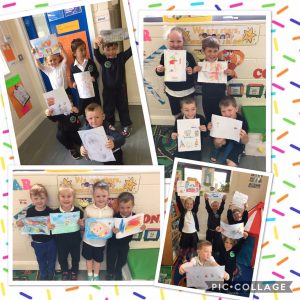 I scrolled through my many photos of this wonderful class and all they achieved in this special, first year in school. I remembered fondly our Christmas Play, the Three Little Pigs and the time we had a visit from the doctor and Ella dressed up in the Dr. Maria's scrubs! Or the time Oisín was the first child to get to spend some 'chill' time in the classroom tent. Then there was the time we worked together in small groups, to respond to an illustrators design work, as part of an Art project one Friday morning. With so many memories I will forever hold dear, it's hard to recap an entire year in only one blog post!
I've put together some photo collages below. I hope you enjoy them. Don't forget, lots of photos exist in previous blog posts – just search Junior Infants on the blog and you can take a trip down memory lane in recapping some of the highlights of 2016-2017.
Thank you, very specially, to all the parents of Junior Infants and everyone who helped me in and outside the classroom throughout my year with this amazing little class!
I hope everyone has a lovely, happy summer!
Ms. Farren