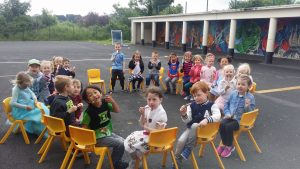 Junior Infants had a fun day last week. We had so much fun! We had a soccer tournament with the senior infants that Paddy organised- it was so much fun! We were in four teams and we played really well!
The we had a yummy barbecue with hot dogs and ice pops to finish.
After our barbecue we made yummy cupcakes and decorated them. Then we did some art and made puppets and windmills!
Next it was time for Jungle Dave! Jungle Dave brought in so many reptiles and told us all about them!
We had a fantastic Fun Day! We have had a great junior infant year. We had lots of fun and we worked really hard. Now, on to senior infants and our new teacher Ms. Sexton- we can't wait!! 🙂 🙂