Over the past the couple of weeks in Senior Infants we have been learning about hospitals and doctors as part of our Aistear activities. It linked in really nicely with our theme of food and healthy habits! We discussed lots of new vocabulary like 'accident', 'emergency', 'surgeon', 'thermometer' and 'stethoscope'. We discussed going to the doctor if we don't feel well and going to the hospital if we need an operation or have broken our arm or leg. During our role play we played the parts of secretary, doctor, nurse, hospital chef, pharmacist and patient. We are getting really good at staying in character. We also discussed how people get medicine from the pharmacy using a 'prescription' that the doctor writes.
We worked really well together in our Aistear groups to use our new vocabulary. We constructed a doctor's surgery and a hospital using blocks and cubes and even made an umbrella from straws – it's important to try and avoid getting colds and coughs during the winter!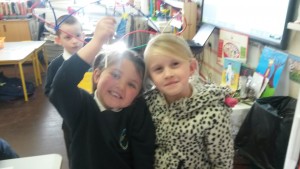 We also discussed lots of different body parts and filled out some patient feedback forms and some prescriptions. Our writing is really improving!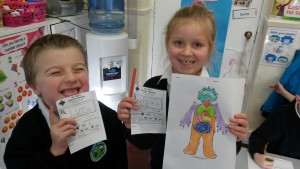 We used our traffic lights to self – assess our writing: green means we tried our best and worked very neatly, orange means we tried really hard but think we could do a little better next time and red means that we really want to make a better effort next time. Self – assessment helps us to take time to think about our work – what we like and what we want to improve on.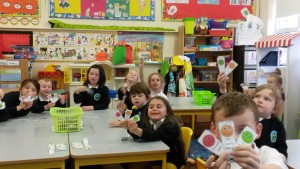 We are also busy getting ready for our Christmas performance and can't wait to practice more next week!