Junior infants have settled really well into school and are working hard! We love our sounds. So far we have done the sounds- s,a,t,i,p,n,c,k,e and we are now working on h! We sing fun songs with our sounds and do fun actions with them too!
Look at this boy's great work!
We have been having lots of fun and learning lots in Aistear too!
We love showing off what we have done!
One of the things that we've been working really hard on is our fine motor skills. Here's some photos of our cutting!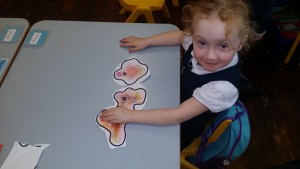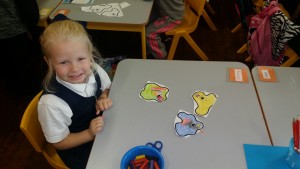 Our cutting and pencil skills have really improved so we are now working on our handwriting, the letter "c." Hopefully we'll have some work to show you soon! If any of our mums, dads, grannies, granddads or other family members are having a look at this blog post, please leave us a comment! That way we can have a look at your comment in class!