During Engineer's Week 2015, third class had a visit from Joe, a Civil Engineer from Dublin City Council. Joe showed us pictures of a water treatment plant. We thought this was really interesting, so, for Discovering Science 2015, we decided to filter some dirty, grassy water of our own!
We filtered water in two ways! Have a look at Kelsey, Dominick, Caoilynn and Dylan watering how well Caoilynn can filter the water using her hand – her face tells a story of its own!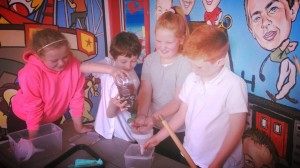 Kelsey and Dylan then watched how the water would filter as it passed through a thick J-cloth!
Brooke, Kia and Ryan tried the same thing!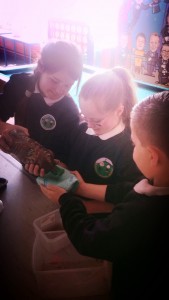 The water was MUCH clearer when the water passed through the thick J cloth! Even though all the groups agreed the J cloth was the better method of the two for filtering, Bridget decided she would have a go filtering the water through her hands – It's a messy business!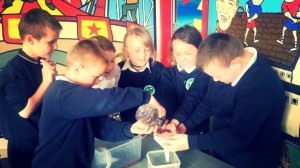 Kayden also had a go with the help of Codie, Casey and Rowan!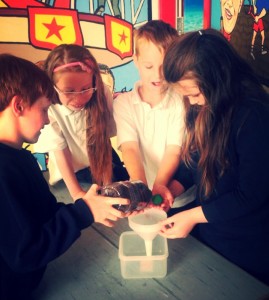 Our filtering methods showed us that the J cloth was the better method of the two. Although using our hands was VERY good fun, we still wouldn't want to drink the water in the bucket. We think that we will stick to drinking water that has gone through the water treatment filtering system we saw in pictures from our visitor, Joe the Engineer.