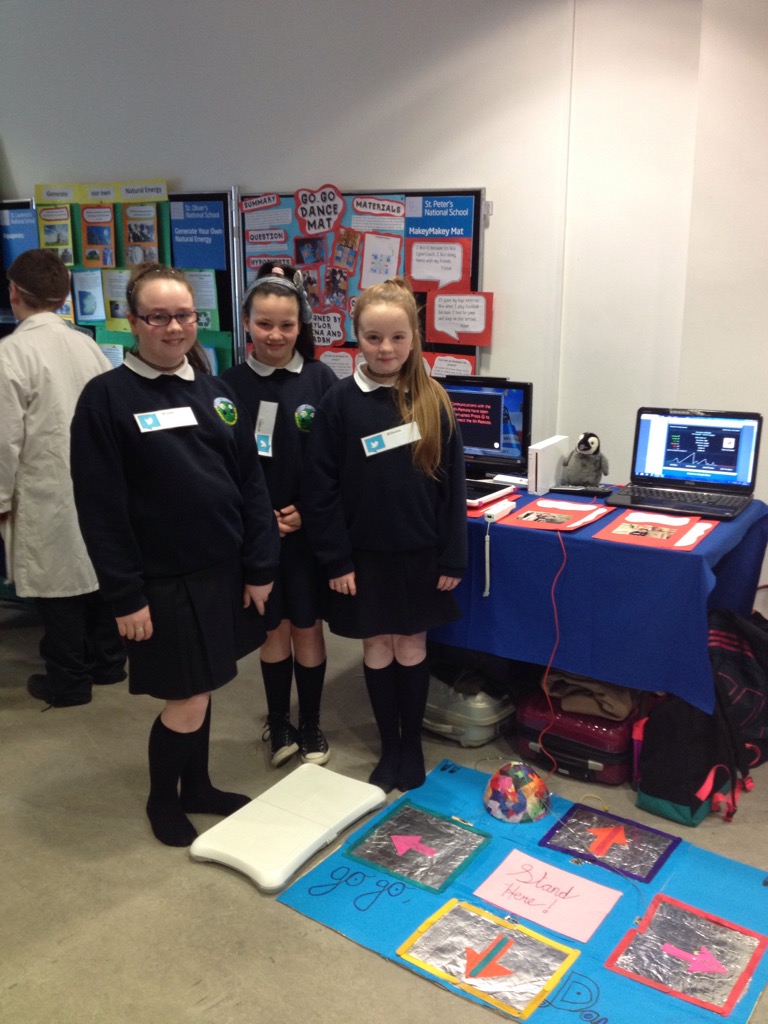 We're very excited to share the highlights of this year's Mini-Scientist showcase in St Peter's! Last year was our first year to take part in the Intel Mini-Scientist programme and we really enjoyed it. You can find all of our blog posts related to the Mini-Scientist competition here.
This year, we approached it slightly differently. In September, we formed a Mini Digital Youth Council (you can learn more about the senior version here) and we decided that as part of their work, they could take part in the Mini-Scientist programme and they were encouraged to include a focus on technology as part of their project.
The top three projects were:
Sadbh, Taylor and Davina – how can we build a homemade dance mat using only materials available to us within the school?
Christian, Aaron and Leon – how can we use Minecraft to improve the teaching and learning of history?
Well done to Christian, Aaron J and Leon! They came 2nd in the @Intel_IRL Mini Scientist competition in school! pic.twitter.com/n4um9pzAYD

— St. Peter's Primary (@StPetersBray) November 28, 2014
  Alana and Alannah focused on how to use technology to teach particular skills to younger classes – e.g. tying shoelaces.
Well done to Alana and Alannah from 5th who explored technologies to help to teach 2nd class. #edchatie pic.twitter.com/YWyLxax9oB

— St. Peter's Primary (@StPetersBray) November 28, 2014
Sadbh, Taylor and Davina travelled to the Intel Ireland campus before Christmas and were thrilled to be chosen as one of the top projects and given the opportunity to go forward to the Grand Final – which took place today!

This is the story of their dance mat in pictures:
Here's a selection of some of photos from our adventures today!
Our scientific selfie with Ms Whyte and Ms Sexton!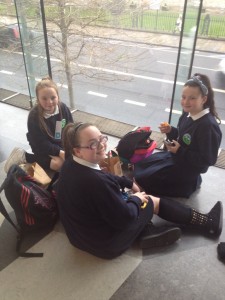 Checking out the view from the Science Gallery!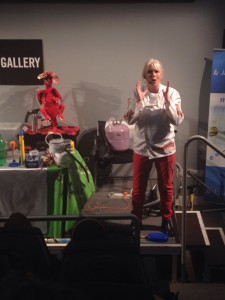 We were delighted to see Scientific Sue!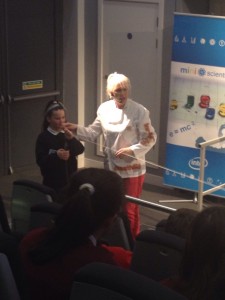 Taylor was lucky enough to be chosen as a volunteer!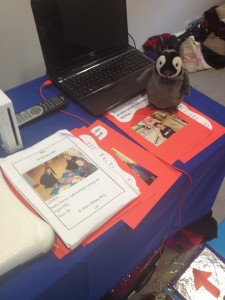 Páidí held the fort while we were at the Science Show!
We were delighted to welcome Junior Minister Damien English to our stand.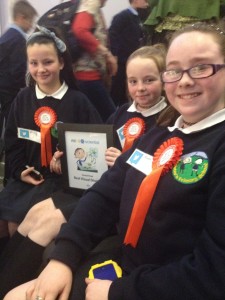 And we were absolutely thrilled to win 'Best Visual Display'!
Very excited to win an award!
We then met Harry McCann, founder of the Digital Youth Council, who had organised a tour of Twitter for us!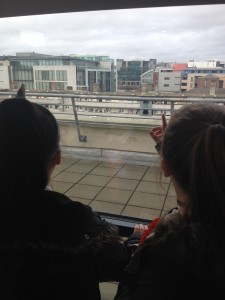 How amazing is the view of Dublin from the Twitter building?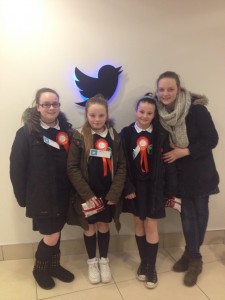 Delighted with our visit to Twitter – and very excited to get home and see our families' reactions!
Thanks to all the teachers for their help with the project and to the students from Junior Infants, Senior Infants and 2nd class who helped us learn more about dance and coordination! And finally, a huge thanks to the coordinators in Intel Ireland – particularly Sarah, Michelle and Catherine!