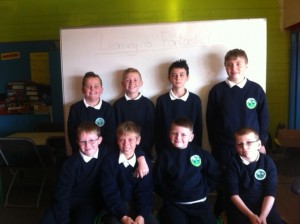 Welcome to Ms. Keating's Class. There are 10 boys in the class ranging from 2nd to 6th Class.
5 things we love about our class:
Helping one another
Our teacher
Cooking
Class games
WOW cards
3 things we are looking forward to this year:
Our School Trip
Our Class Trip
Teachers vs. Students
Our Favourite TV shows:
The Simpsons
Pawn Stars
Total Wipe-out
Our favourite movies:
Matilda
Goal
Fantastic Mr. Fox
Mission Impossible
Jurassic Park
Our favourite musicians:
The Furies
Eminem
The Dubliners
Bob Marley.
Our favourite time of the year:
Our favourite thing about St. Peter's:
Our best memory in St Peter's so far: