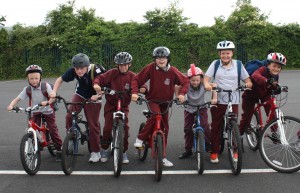 Bike Day was a great success this year. It was our fourth annual day where we all bring in our bikes and helmets and promote safe cycling. Before we started, we tested all of our bikes for good, safe brakes and excellent tyre pressure.
There were two events, a two-lap time trial of the yard and a slow cycling obstacle course. Luke Kelly (6th) was a stand-out performer in the time-trial, with a time of 1 minute, 17 seconds and Jamie Doonan (5th) was the best competitor in the obstacle course.
Congratulations to all of the students for their excellent participation and many thanks to Paddy for planning the day out for us.
In related news, today TJ Nolan in Second Class won a €200 voucher for Everest Cycles after we had a raffle to reward our students for all of their fundraising for the Sponsored Walk. Well done to TJ, he will no doubt be showing off his new wheels to us soon!