Our Cup Final Match Report
By Archie & Johnny
After all the tension between Spain and Germanys match, it led to PENALTIES. Oh yes, it was time for penalties!  St. Peters Mini World Cup 2013 had gone to the wire. All the teams taking part were eager to see who would receive the gold. The tension was rising.
64 players were watching by their countries side hoping for a good win. It was 21 degrees on Friday and sweat was dripping from our wet faces. It was up to Jake to score one goal to put Spain in the lead. It all worked out, Jake shot the ball through the air and slipped past Juniors fingers and into the bottom right corner of the nets and a roaring cheer followed on after the goal.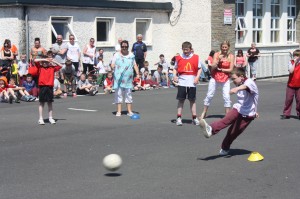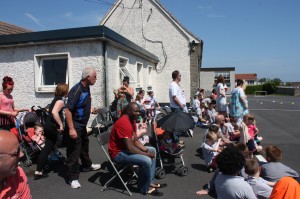 It was now Robert's turn, but sadly he missed. After, it was Andy of the Walls go to try and put us in the lead. After the tension, he shot and unfortunately Germany saved the shot with a dive by Junior making a huge effort to save it.
Archie Farrell was up next with a confident look on his face. Archie, as he expected scored, with a launching fire of a kick in through the net and hit off the back pole and fired up into the air.
Finally it was Jake's turn to save this shot. If he did save it, we would win the football tournament. Junior was taking this shot and of course Jake was in net. After a tense few moments Junior missed and Jake saved it.
The crowd went wild. And all of Spain huddled together cheering with joy.