Last Friday was the annual St. Peter's School Sports Day. Thankfully the rain held off and the day was another great success, with great support from parents during every event.
Highlights of the day included each class taking on the teachers in games of Bulldog, with Tautvydas showing the rest of the school exactly how the high jump is done! The multi-sports in the afternoon was great fun, with the boys playing hurling, football, basketball, volleyball, and hockey.  Mr. Foley's obstacle course was also a success, thanks mainly to the help of each teacher with each team during it. (Some teachers "helped" more than others …… Paddy…… !). The boys did very well on the obstacle course and managed to soak both themselves, Mr. Foley, and Mr. Kinsella in the process!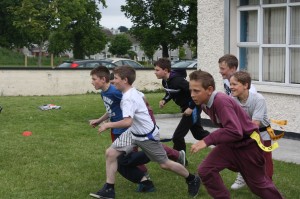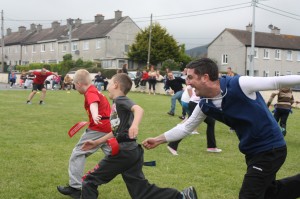 A huge thanks to Paddy for the work he put in organising the whole day, and to the staff who helped make it all run smoothly. It was great to see so many parents come and watch and we hope you enjoyed the BBQ food served up by our chefs!